250cc & 300CC Custom Billet Heads
RK TEK IS 100% CONFIDENT IN THE PERFORMANCE OF THESE 250cc AND 300cc HEADS!
Array
Description
KTM--BETA--HUSQVARNA-HUSABERG- 2 STROKE PERFORMANCE TBI-TPI or CARB
NOTE: We DO have the heads for the '23 KTM/HUSKY TBI Engines! THESE are only $180.00 and WILL greatly improve performance with ZERO drawbacks! NO FUEL CONTROLLER is REQUIRED!!
NOTE: For the TBI Models--->This is JUST a new insert that fits inside your OEM Head. Your STOCK head is an "Insert" design
Make sure,when ordering, you select the "TBI" Option
_______________________________________________________________________________________________
NOTE: RK TEK IS 100% CONFIDENT IN THE PERFORMANCE OF THESE 250cc AND 300cc HEADS!
WE WILL OFFER A MONEY-BACK GUARANTEE
If the head does not offer a performance increase over your stock head, we will refund your money! NO RISK! NO other company will offer this guarantee on their head. This speaks to the quality and function of the RK Tek Head Design.
OUR heads WILL improve/widen the effective RPM Band GREATLY. TORQUE is increased at ALL RPM but our focus is, usually, directed to increase the lower and mid RPM torque. At no time will our heads give up top end performance or over-rev. We do NOT "Rob Peter to pay Paul"
The OEM 250 and 300 heads do not imploy a good functioning squish band design. This lack of good squish "action" is why you can have inconsistencies and runability issues (ie flat/dead spots,tempearture sensitivity etc. etc.). Our specific (Patented) design keeps the compression ratio in check and allows for well functioning squish band. This ,GREATLY, improves torque output and reduces the onset of detonation. In short, your engine will perform like it should with a very SMOOTH and LINEAR torque delivery. Wheel spin is REDUCED so better traction is the result. Also you will be much less tired as a result of not having to use as much energy to "control" your bike. The smooth and linear power delivery takes this burden off of you. You will not find a better mod for your engine and yourself!
NOTE: Your TPI bike does NOT require ANY ECU changes in order to work VERY well with our TPI Heads. We have been working with Fuel Injected 2 Stroke Engines for decades!! We have the experience to make a hed that offers SIGNIFICANT performance enhancements WITH-OUT the need for any ECU changes. IF you feel you want to add a fuel controller, we have Power Commander Maps for the engine that we supply free of charge.
PLEASE.. do not get taken in by this internet "hype" regarding the need for ECU changes. It simply is not true! Your TPI engine will run just fine with the RK Tek Head.
When you have a narrow power-band (stock head) the higher gears are not very usable because the engine will not supply the needed torque at the lower RPM. So, you are forced to ride in the lower gears in order to maintain any torque.

After the head install, the torque is produced at a MUCH lower RPM than before. This allows for 1-2 gears HIGHER when in the slow and technical OR the heavy loaded hill pulls.
The higher gear running allows for faster overall speeds and less fatigue on the riders part because the rider does not have to "work" as hard to keep traction.
Almost all will find they are faster and in more control when running the higher gears. With this confidence increases as well.
Please check out this awesome video from DIRT BIKE CHANNEL regarding this head.. MANY questions can be answered there
NOTE: The Below dyno chart is from one of our customers.
It is clear the added torque the head provides. What MAY not be clear is that the dyno run with the RK Tek Head was started at a much higher RPM (3500 vs 2500 RPM).
This is the reason wht the chart shows no power below 3500 RPM.
You can be assured the power with the RK Tek Head is MUCH greater than ANY other bolt-on part you can purchase, ESPECIALLY at the lower RPM..
In fact, the head offers significant torque increases over ANY other head at ALL RPM.
DYNO CHART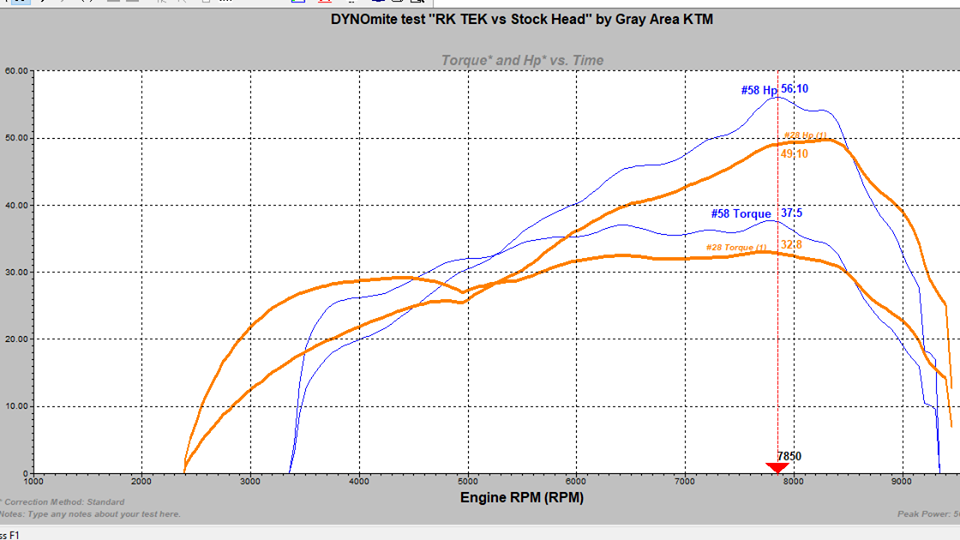 Great way to get a huge performance increase at a cheaper cost!
The Stock 250 & 300 head (especially 2014 and newer) is a VERY inefficient design and leaves A LOT of Performance on the table.
We have developed a TRUE Performance Enhancer with this Custom Billet Head designed specifically for mountains and single/dual track riding.
This head will widen the engine's effective power-band considerably and allow for a much more linear power delivery.
This head is unequaled in its performance. Cooling is also increased. A cooler running engine will last longer and produce more power.
Testing has shown, in many cases, this head allows for the hill to be pulled in the next higher gear . What you would normally pull in 2nd gear you can now pull in 3rd gear.
Porting Packages are also available. This will wake up the engine even more!
ANOTHER HUGE bonus with the addition of the head is improved fuel economy! This is ,usually, the result of the higher gear running.
Most find they can run an extra 10-20 miles further on the same amount of fuel!! Now who doesn't need that???
PLEASE stay tuned to this site for updates!
Head is available and custom made for ALL riding elevations and octane.. These heads are made for YOUR engine. Information is taken at the time of order and the chamber is designed for YOUR engine and application.
This head offers performance gains UNMATCHED by ANY other bolt on.. You will NOT be disappointed!
These Heads will come anodized in Non Anodized or Black.
NOTE: As of April 2020, we will not have the 2008-2016 KTM/HUSKY 250 BILLET Head. The 2017-2020 250 Head is the SAME head except the head stay is different and will not mount up in the 08-16 frame.
We will ALWAYS offer the 250 Head Re-Shape.